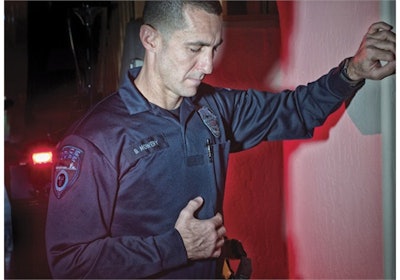 Police officers in the United States face a 30 to 70 times higher risk of sudden cardiac death when they're involved in stressful situations, according to a recent study from the Harvard School of Public Health and the Cambridge Health Alliance.
"Because of their job, police officers are under a more significant amount of stress compared to the general public. They take that stress home with them at the end of their shift, too," said Stefanos Kales, associate professor in the Department of Environmental Health at the Harvard School of Public Health and senior author of the study.
The study found that sudden cardiac death accounts for up to 10 percent of all U.S. on-duty police deaths. There is less data available for off-duty and post-retirement heart attack deaths, said Kales, who is also chief of occupational and environmental medicine at Cambridge Health Alliance.
Eating well and exercise are important to maintain good heart health, Kales said. Poor eating habits for police officers because of time constraints can contribute to poor heart health, the Press of Atlantic City reports.
"It's really easy to eat a slice of pizza or a burger fast while an officer is working, but not as easy to eat a salad fast on duty," Kales said.