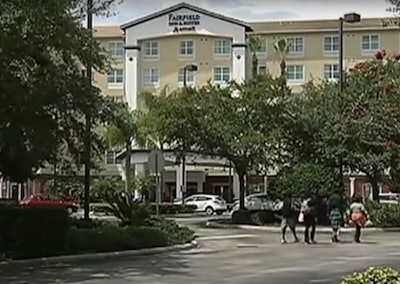 Orange County, Fla., deputies have arrested four men in connection with the carjacking and kidnapping of a federal agent who was vacationing in Orlando.
Deputies said 19-year-old Gregory McDonald, 18-year-old Dante Askins and a 15 and 16-year-old were all taken into custody Friday.
A federal law enforcement officer who was vacationing in Orlando was abducted in a hotel parking lot late Wednesday. Investigators said the incident happened at the Fairfield Inn and Suites off of Universal Blvd. around 10:30 p.m.
"The victim was packing his car when he was approached by 4 unknown black male suspects," said Orange County Sheriff Jerry Demings during a news conference Thursday afternoon.
According to investigators, the suspects pistol-whipped the 44-year-old victim, took his wallet, and forced him into his car at gunpoint. They held him captive for a period of one to two hours, as they drove around in the vehicle. By then, investigators said the officer's wife was concerned and called for help, Fox News Orlando reports.