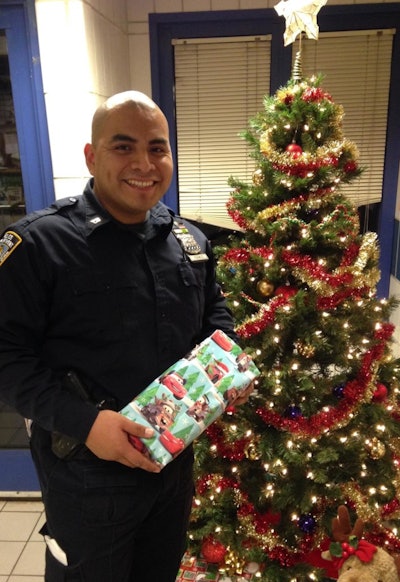 NYPD Officer Carlos Ramos has spent the past week collecting presents for a toy drive he organized, and has surrounded his supervisor's desk with bags and boxes filled with Lego sets, footballs, and dolls, all donated by fellow officers. Next week he plans to present the gifts to the Flushing Family Shelter located in Brooklyn. This is the first time that Officer Ramos has organized a toy drive and his motivation is a deeply personal one, because he knows what it feels like to not have a home, according to NYPDnews.com.
Ramos, 31, was about 10 years old when he spent time in a Manhattan shelter, where as a young child he didn't understand why he was there and felt unwanted, helpless and afraid. Even after becoming a police officer, husband and father, his memory of the shelter never faded.
"It really became a burden on my heart. I really could not let it go," said Ramos.
Last week Ramos decided to transform those feelings and organize the toy drive. He turned to his coworkers to assist him and shared his story. Ramos, who is assigned to the Transit Anti-Terrorism Unit located in Transit District 3, has worked for the NYPD for eight years. Until last week, he had never shared with his fellow officers the fact he had once stayed in a shelter.
"Being able to open up not only allowed me to express my feelings to my colleagues, but it allowed my colleagues to understand why the toy drive was so important to me," he said.
He said he hopes the gifts will make a difference to the children and families who will receive them.
"These gifts are a sign of love, a sign of affection. They say, 'Somebody does care for you. It is going to be OK. You are not alone.' A small detail like that goes a long way," said Ramos.