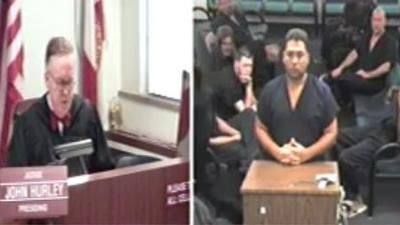 A Florida grand jury has indicted a Broward County Sheriff's deputy on a charge of manslaughter in the 2013 shooting death of 33-year-old computer systems engineer Jermaine McBean, the state attorney's office said Friday.
Broward Sheriff's Deputy Peter Peraza shot McBean as he was walking through his Oakland Park apartment complex while carrying a newly purchased, unloaded air rifle across his shoulders.
The sheriff's office said the day after the July 31, 2013 shooting that McBean began to turn and point the gun in the direction of the deputy, the Sun Sentinel reports.
A photograph that surfaced in May showed a fallen McBean wearing earbuds, and his family has said he would have been unable to hear any orders to drop the weapon.
Peraza told a sheriff's investigator that deputies screamed numerous times at McBean to drop his weapon, and that it didn't appear as though anything was obstructing his hearing at the time of the gunfire, according to an agency case report.