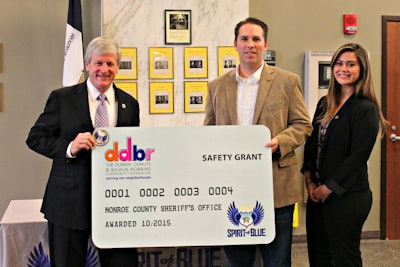 The Spirit of Blue Foundation has awarded a Safety Equipment Grant to the Monroe County (NY) Sheriff's Office (MCSO) for the purchase of 100 Individual Patrol Officer Trauma Kits (IPOK), valued at $4,497. The kits will allow deputies to provide immediate self-care if injured while on patrol or in training, in addition to providing care to other deputies or members of the general public who are injured and in need of immediate medical attention. The IPOK's, manufactured by North American Rescue, feature their C-A-T Tourniquet, Z-Fold Gauze, 4-inch emergency trauma dressing and a pair of sterile gloves, all inside of a vacuum-sealed pouch.
"I would like to thank the Spirit of Blue Foundation for their generous gift awarded to the Monroe County Sheriff's Office," said Sheriff Patrick O'Flynn. "The Individual Patrol Officer Kits (IPOK) are a welcome addition to our patrol vehicles. This equipment will provide an extra margin of safety for staff and the public we serve, when addressing critical incidents."
Funding for the grant was provided by a generous gift from The Dunkin' Donuts & Baskin-Robbins Community Foundation (DDBRCF), a nonprofit organization of volunteer Dunkin' Donuts and Baskin-Robbins franchisees and Dunkin' Brands employees that ensure the basic needs of the community are being met in areas of hunger relief, children's health and safety. In total the DDBRCF has enabled Spirit of Blue to make 17 Safety Equipment Grants throughout New England with a total value of more than $100,000 in 2015. Spirit of Blue also announced that donations from the community, pledged by texting "KIT" to 41444 and received by November 1st, would be used to purchase additional IPOK kits for the Sheriff's Office.
"A tremendous leap forward has occurred in the area of tactical emergency medicine," commented Ryan T. Smith, Executive Director of the Spirit of Blue Foundation. "With the right equipment, such as a tourniquet, and the right training on how to use it, those who are injured in the line of duty have a much higher survival rate than before. These kits can help stabilize a deputy with a severe extremity wound, for instance, long enough to get the proper medical attention to save their life."
2015 statistics released by the National Law Enforcement Officers Memorial Fund show that 102 law enforcement officers have already lost their lives this year, an increase of 17% from the same period in the prior year. Of those deaths, 32 were firearm-related, and an average of 56 firearm-related fatalities occur each year. The reality of these statistics, and the increasing number of underfunded law enforcement agencies across the country, fuel the Spirit of Blue safety grant initiative.
The Spirit of Blue Foundation actively encourages the public at large to honor and appreciate law enforcement officers who serve to protect our communities. By supporting the Spirit of Blue Foundation, the public can make an impact in the lives of law enforcement officers every day. To learn more about the Spirit of Blue, or make a donation, visit www.spiritofblue.com.
About The Spirit of Blue Foundation
The Spirit of Blue Foundation, based out of Chicago, IL, is a 501(c)(3) public charity dedicated to the enhancement of officer safety and vitality throughout the law enforcement community by promoting public awareness for their protection and fulfilling safety equipment and training needs. The Spirit of Blue Foundation develops and executes fundraising campaigns nationally with the support of partner non-profits, national retailers and private equipment manufacturers. Fundraising proceeds are distributed in the form of Safety Equipment Grants to law enforcement agencies from local to federal levels.