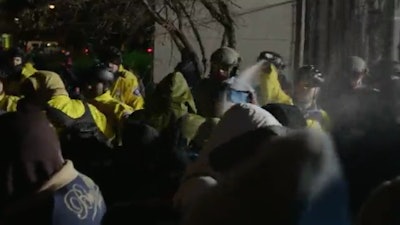 Authorities named the two Minneapolis police officers involved in the shooting of Jamar Clark as protests roiled the city for a fourth day Wednesday and officers set up barricades at a north Minneapolis police precinct headquarters where hundreds of protesters were still on hand late into the night.
The Bureau of Criminal Apprehension (BCA) identified the officers as Mark Ringgenberg, 30, and Dustin Schwarze, 28. Each has seven years policing experience, including the last 13 months with Minneapolis.
Lt. Bob Kroll, president of the police union, said the shooting happened after Clark allegedly tried to grab one of the officer's guns when they responded to a paramedic's 911 call for help early Sunday morning and scuffled with Clark. An autopsy said Clark died of a gunshot wound to the head.
Police Chief Janeé Harteau declined to discuss the assertion at a news conference Wednesday afternoon, but defended her order to break up protesters camped outside the department's Fourth Precinct for safety reasons, the Star Tribune reports.
Tension remained high around the building late into the night, with police releasing pepper spray on at least two occasions to push crowds back. Police were spotted on the building's roof on and off throughout the evening.