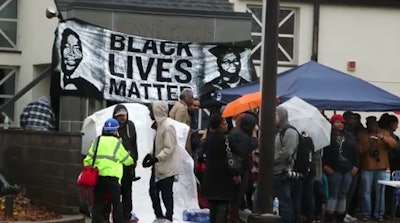 Black Lives Matter activists in an encampment blocked the main entrance to the Police Department's precinct headquarters in north Minneapolis Monday in the wake of police shooting and critically wounding a man over the weekend.
The activists have alleged that 24-year-old Jamar Clark, who is black, was unarmed and handcuffed when he was shot early Sunday on the street in the 1600 block of Plymouth Avenue N. during a struggle with police.
Police Chief Janeé Harteau has said her department's "preliminary" finding is that Clark was not cuffed by officers who were responding to a report that Clark was assaulting his girlfriend. The state Bureau of Criminal Apprehension is leading the shooting investigation.
The last word from police was that Clark was being treated at Hennepin County Medical Center. They have yet to disclose his condition. Nekima Levy-Pounds, president of the Minneapolis NAACP, countered that Clark had been "shot and killed" by police.
Clark's relatives gathered Sunday at HCMC, where a physician told them that their loved one was brain dead, the Minneapolis Star-Tribune reports.