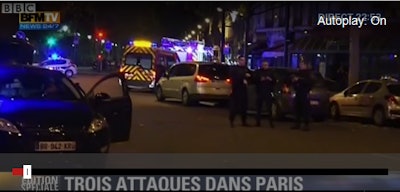 At least 43 people are confirmed dead after a series of what appear to be coordinated attacks across Paris, France, late Friday, reports CNN.
Several groups of police have burst into the Bataclan concert venue where 100 people were being held hostage and a series of denotations have been heard from outside, a CNN producer said. A series of gunfire has been heard.
It is now being reported that around 100 hostages people have been killed at the venue and three suspected terrorists were reportedly killed by police.
One of the explosions at the Stade de France outside Paris appears to be a suicide bombing, a Western intelligence source receiving direct intelligence from the scene told CNN's Deb Feyerick. A dismembered body, consistent with the aftermath of an explosion from that type of device, was found at the scene, the source said.
French authorities have launched a terrorism investigation, Eric Pelletier, a reporter with Le Pariesien, tells CNN Paul Cruickshank. There has been no official claim of responsibility, though ISIS has applauded the attacks on Twitter, Cruickshank reports.
At this hour, there is no credible or specific threat in the United States, according to a U.S. government official.