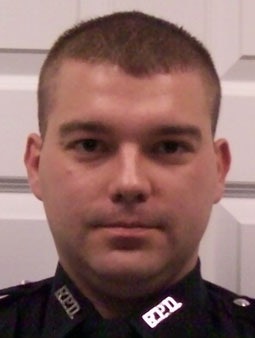 A Richmond, KY, police officer who was shot in the line of duty Wednesday died early Friday at University of Kentucky Medical Center in Lexington.
Officer Daniel Ellis, a seven-year veteran of the force, was pronounced dead shortly before 2 a.m., WAVE TV reports.
Ellis was investigating a report of an armed robbery, which led him to an apartment on Ballard Drive in Richmond. While Ellis and another officer were searching the apartment rented by a man named Gregory Ratliff, another man, Raleigh Sizemore, shot Ellis, critically injuring him, police said. The second officer returned fire and struck Sizemore in the leg and chest.
Sizemore was treated and released from UK Medical Center then was arrested and charged with attempted murder of a police officer and unlawful imprisonment. With Ellis' death, those charges are expected to upgraded.
Ratliff is charged with complicity to commit murder of a police officer.
Ellis is survived by his wife Katie, a 3-year-old son Luke, and his parents.