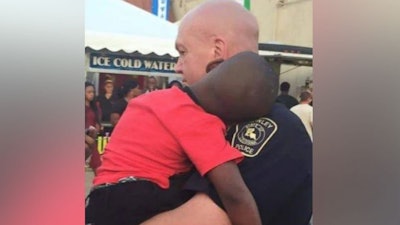 Last weekend was just a normal work weekend for Officer David Taylor. He was patrolling the International Rice Festival in Crowley, La., when a woman brought a young child to his attention: the boy had gotten lost in the crowd.
That's when Taylor picked him up and comforted him until the boy's mother was found half an hour later.
"He was extremely upset...I put him on my shoulders to see if he would be able to see his parents," said Taylor. "He started to fall asleep, and I moved him down to my chest."
A photo of Taylor holding the sleeping child has been "liked" more than 5,000 times on Facebook.
Taylor, who has worked at the Crowley Police Department for 18 months, told ABC News that he's not a fan of all the attention he's gotten, saying he was just doing his job.