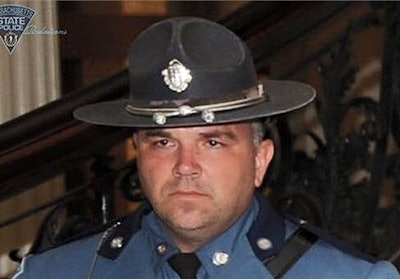 Investigators reconstructing a fatal crash that killed a Massachusetts State Trooper on March 16 are probing the possibility that the driver deliberately slammed his car into the trooper's SUV at the side of the Massachusetts Turnpike in Charlton, according to multiple law enforcement sources.
Several witnesses—including a police officer—described seeing a Nissan Maxima veer across three lanes of traffic and then steady itself in the breakdown lane before plowing into the rear of the SUV, said two law enforcement officials with direct knowledge of the investigation.
Those same law enforcement sources also said that the driver, David Njuguna, 30, broke both wrists in the crash, which could be an indicator that he held fast to the steering wheel as the car careened into the Ford Explorer where Trooper Thomas Clardy was sitting. There were no skid marks indicating that he ever tried to stop the vehicle, Boston Magazine reports.