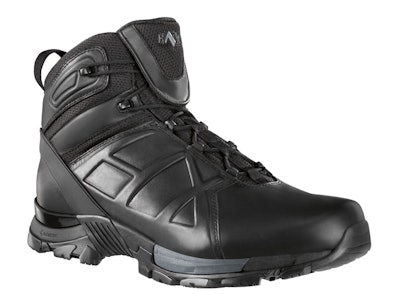 HAIX, one of the world's leading makers of law enforcement duty footwear, is offering a special opportunity for three American law enforcement agencies to wear test the company's boots.
Winning agencies will each receive 10 free pairs of HAIX Black Eagle Tactical 20 boots in a choice of low (shoe), mid (6-inch), or high (8-inch) boots, depending on the agencies' footwear requirements. Officers participating in the wear test will be asked to complete a questionnaire, detailing their impressions of the boots and how well the boots served their duty needs.
HAIX Black Eagle Tactical 20s combine advanced running shoe technology with the company's innovative duty footwear technology to create a lightweight, slip-resistant boot designed to meet officers' needs both on duty and off. Similar to most running shoes, HAIX Black Eagle Tactical 20s offer one width that easily adjusts to a variety of foot types. The boots feature Sun Reflect technology and Gore-Tex for weather resistance.
Agencies with 150 or more sworn officers are eligible to submit an application for the test. Deadline for agency applications is May 31.
Go to http://econnect.policemag.com/3p/2016/haix/0323-Landing-Page/default.htm to apply.
About HAIX:
HAIX is a German footwear manufacturer dedicated to providing law enforcement, military, fire, and rescue professionals with the best possible duty boots. The company's products are designed to meet the highest requirements for function, quality, comfort, and design.