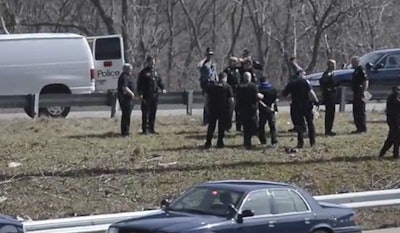 Three bank robbery suspects were arrested Wednesday after allegedly firing shots at police officers during a high-speed chase that spanned the Missouri-Kansas state line.
The chase began in southern Johnson County, KS, and ended when the suspect vehicle drove into Missouri and crashed about 12:45 p.m. at Interstate 435 and U.S. 71 in the Three Trails Crossing in Kansas City, the Kansas City Star reports.
The driver allegedly ran from the wreck and tried to carjack another vehicle before police arrested him and two others.
There were no gunfire injuries reported. Multiple ambulances were called to the crash scene. Two of the robbery suspects were taken to hospitals, as well as an 18-month-old who was in the vehicle. The toddler appeared uninjured but was taken as a precaution.
The FBI said the robbery occurred just before 12:30 p.m. Wednesday at the First National Bank in the 7600 block of West 199th Street in the Stilwell area of southern Johnson County.