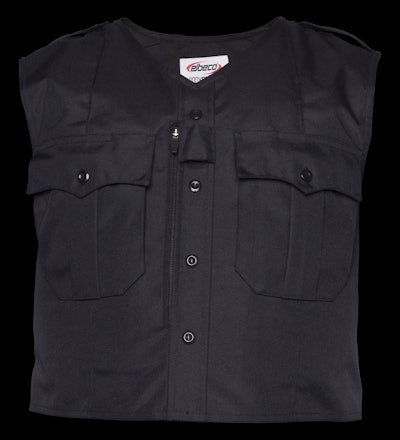 As the demand increases for law enforcement professionals to invest in on-body camera systems, Elbeco Inc., a leader in the manufacture and supply of professional uniforms for over a century, is getting ready to launch the BodyShield External Vest Carrier – the World's First Smart Uniform for Law Enforcement, according to the company.
Elbeco anticipates the carrier's on-shelf date of May 2016. Until then, you can learn more about the BodyShield Vest Carrier's features and benefits by watching the product video at https://www.youtube.com/watch?v=D-BCPQvBPtw.
It's the third generation of its kind, now integrating a whole new generation of smart uniform technology -- now smarter with technological advancements and distinctive, battled-tested, durable fabric for ultimate protection. In response to customers' constructive comments, Elbeco has created the BodyShield as a solution for on-body camera surveillance systems.
New benefits include:
It's Smart. Body-worn camera systems can rely on BodyShield's ability to be secure, on-body camera/integrated communication technology ready.
It's Resilient. The 600-denier Syntex Polyester fabric offers stain and liquid repellency, which maintains color through daily law enforcement deterioration.
It's Secure. The stealth cummerbund zippered waist closure includes a front-to-back side FastLock Closure System. Together they are designed for ease of donning and doffing, securing closure, and preventing the vest from riding up or being pulled apart.
Additional new features include:
Anti-microbial mesh lining with vertical opening, which is lightweight and blocks bacteria formation while minimizing odors.
Nano Fluid Repellency technology enhances fibers at the molecular level, keeping the wearer dry and comfortable while the fabric maintains its natural breathability.
Large hidden document pocket extends the width of the chest, with zipper closure and dual pass-through to access ballistic cover.
Zipper opening on placket with camera mount tab on front placket.
Dual access front chest pockets, with back bellows and FastLock fasteners.
Loose functional shoulder straps. Interior shoulder openings under straps accommodate mic clip.
Pencil opening in both flaps; pencil compartment in left chest pocket.
Badge tab eyelets above left chest pocket.
Tunnel loops on inside lining accommodate VSS1 Suspension System.
Reshaped neck opening to be wider.
Factory certified, designed to house any body armor manufacturer's vest in its existing concealable carrier.
Available in 20 stock sizes.
The BodyShield Vest Carrier will be available very soon at your local distributor, offered in Midnight Navy (V3114B), Black (V3110B), and Tan (V3112B). For more information, you can contact your Elbeco Sales Representative today by calling 1-800-468-4654. More details are also available on Elbeco's website at http://elbeco.com/product/bodyshield-vest-carrier/.
Since 1907, Elbeco has been manufacturing quality uniforms for law enforcement, fire/EMS, transportation and postal professionals worldwide. Headquartered in Reading, PA, Elbeco continues to be privately owned and operated. The company's products include a wide range of coordinated shirts, pants, performance polos and base layers, and waterproof/breathable outerwear. Elbeco products are available through its international network of 400+ authorized dealers. For more information, visit www.elbeco.com.