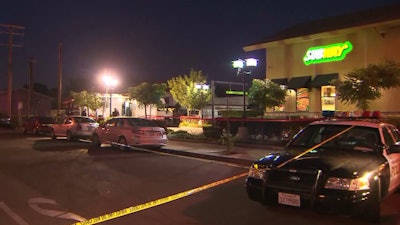 A man accused of attempting to rob an Anaheim, CA, Subway and holding two female employees at knifepoint was recovering after being shot by an officer on Sunday, according to local police.
A woman called 911 around 2 p.m., but because she was whispering the dispatcher was only able to understand her location — a Subway restaurant in the 1100 block of West Lincoln Avenue, Anaheim Police Department Sgt. Daron Wyatt told KTLA TV.
Once at the location, the officers realized the Subway's doors were locked, and after looking through the windows, they saw a man leading two female employees at knifepoint to the back of the restaurant.
"As the events were unfolding, something occurred inside the business that made the officers feel that they needed to force entry to rescue the victims," Wyatt said.
One officer then shot the man, who was described by Wyatt as being a 33-year-old transient.