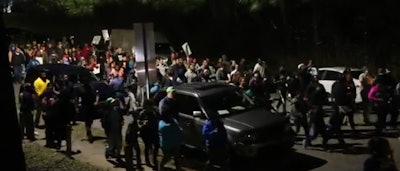 An angry, anxious crowd gathered at the scene of a police shooting just south of downtown Raleigh, NC, Monday evening, decrying police violence against African-Americans, but the gathering remained peaceful.
More than 300 people stood outside of PJ's Grill & Groceries on Bragg Street, where shortly after noon police were trying to arrest a black man on a felony drug charge when an officer shot him, said Raleigh Police Chief Cassandra Deck-Brown. Speaking at an afternoon press conference, Deck-Brown did not provide many details, saying only that the officer was chasing the man on foot when the man "was shot and killed by the officer."
After the shooting, Deck-Brown said, "a firearm was located within close proximity of the deceased suspect."
Deck-Brown did not name the suspect who was shot, the Raleigh News & Observer reports. But Rolanda Byrd said she received a call from her cousin who told her that a police officer had shot and killed her 24-year-old son, Akiel Denkins. She said the cousin told her Denkins was shot in the back while he was running away from the officer.
Although Denkins had over a dozen arrests, he has three misdeameanor criminal convictions. Many of his arrests resulted in cases being dismissed in court.
Denkins was arrested in October and charged with possession of cocaine with intent to distribute it, according to court records. He was charged with failing to show up for court in the case on Feb. 2.
The State Bureau of Investigation will investigate the shooting, as will the Raleigh Police Department's internal affairs office. The SBI will report its findings to the Wake County District Attorney's Office. Deck-Brown said she will provide a written report about the shooting to the City Council within five days.