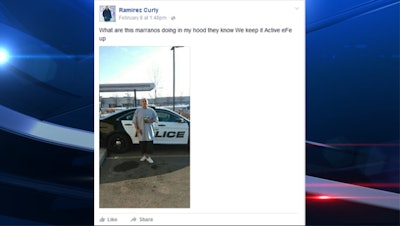 After arresting a wanted man whose Facebook page included a post taunting a Utah police department, police taunted him right back.
Orem police Lt. Craig Martinez said they were notified of the post days ago that showed a man standing in front of a patrol car. The caption used a derogatory term for police and questioned why they were in his "'hood."
By Tuesday, 24-year-old Richard Ramirez was arrested for the misdemeanor assault case. He couldn't be reached for comment and it's unclear if he has an attorney. Martinez said Ramirez was known to police and was wanted for arrest.
Police then posted a lengthy taunt back at the man, reclaiming Orem to be their "'hood," WDTN TV reports.