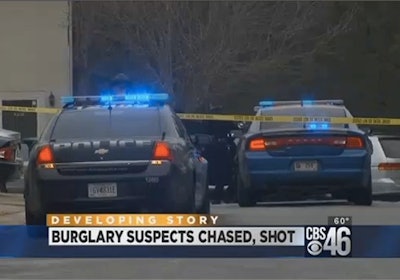 VIDEO: Georgia Deputy Injured, Suspects Shot After Home Invasion Call
The Rockdale County (GA) Sheriff's Office said a deputy was hit by a car and two suspects wounded during an officer-involved shooting in Conyers Sunday morning.
None of the injuries were considered life-threatening, according to Mike Meyers with Rockdale County Sheriff's Office. The two suspects were taken into custody at the end of a chase that spanned two counties.
The incident began as a 911 call for a burglary in progress in Conyers, WALB TV reports.
When deputies boxed in the suspect's vehicle, the driver drove the vehicle into a deputy on foot, knocking him to the ground. Other deputies on scene began firing rounds into the suspect's vehicle but the suspects kept going.
The chase continued into Lithonia in DeKalb County where deputies reportedly performed the PIT maneuver, immobilizing the vehicle.
The two suspects were arrested. They were transported to an area hospital where they were treated for non life-threatening gunshot wounds that authorities believe were incurred during the Conyers shooting. The deputy who was struck by the vehicle was treated on the scene and released.