A father and son were arrested after they allegedly beat a police officer in Huntington Beach, CA, who had attempted to stop one of them Tuesday night, authorities said, reports KTLA.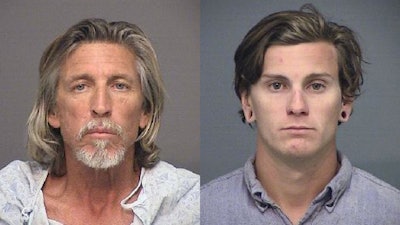 The incident began when an unidentified patrol officer in his patrol vehicle stopped a male bicyclist for a violation around 11:20 p.m., according to a Wednesday news release from the Huntington Beach Police Department.
As the 17-year veteran officer contacted the cyclist, his father came up behind the officer and hit him in the head, the release stated. Both the son and father were on bikes, according to police Officer Jennifer Marlatt.
The officer pulled out a TASER but was knocked to the ground. The two men began beating the officer, punching and kicking him in the head, said the release.
At that point, a woman who was riding along in the patrol vehicle got out of the car and started yelling for the men to stop, the release stated. Her screams prompted the two men to flee on their bikes.
The officer was taken to a local hospital where he was treated for non-life-threatening injuries to his head and face. He was released from the hospital, and was expected to make a full recovery.
Police located the father, identified as 58-year-old Darryl Headrick, in the immediate area, according to the release. His son, 23-year-old Bryce Headrick, was arrested several hours later.
Both were booked on suspicion of attempted murder of a police officer, assault with a deadly weapon other than a firearm, and resisting a peace officer.