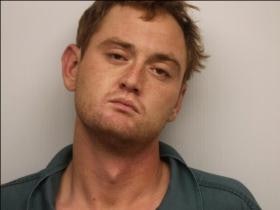 A Chatham County, Ga., sheriff's deputy is recovering after he was shot in the arm while serving a warrant Wednesday afternoon in Pooler — an incident that spurred a three-hour standoff with numerous law enforcement agencies, disrupted traffic and adjoining neighborhoods and caused several school buses to be rerouted.
The man who allegedly shot the deputy, Vincent Helmly, 25, surrendered just before 7:30 p.m. and was arrested without incident.
Cpl. Lester Ellerbe was entering the back entrance of Helmly's Leah Drive residence off Quacco Road to issue a stalking warrant when Helmly fired a high-powered rifle at the officers.
Ellerbe was shot in the left arm, according to Pete Nichols, spokesman for the Chatham County Sheriff's Office.
Helmly then barricaded himself in his house where police realized he was armed with multiple weapons, Savannahnow reports.