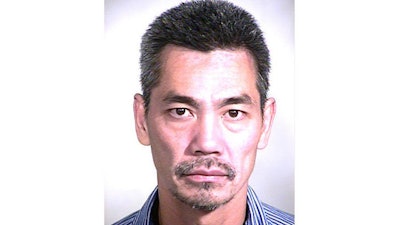 One of three men who escaped from an Orange County, CA, jailhouse last week surrendered to police on Friday, law enforcement officials said.
Bac Duong, 43, turned himself in to Santa Ana police at 11:21 a.m. in the 1400 block of North Harbor Boulevard after a friend or acquaintance called police, said Santa Ana Police Sgt. Don Humphrey.
During a short news briefing, Orange County Sheriff Sandra Hutchens said Duong reached out to a civilian on the street and said he wanted to turn himself in, reports the Los Angeles Times.
At the same time, officials revealed new allegations about letters exchanged between one of the escapees and a jail teacher arrested on suspicion of helping with the jailbreak.
The ESL teacher, Nooshafarin Ravaghi, 44, is being held on suspicion of being an accessory to the brazen jailbreak plot that had left police scrambling to find Duong, Hossein Nayeri, and Jonathan Tieu for the last eight days.
Ravaghi will appear in court on Monday, and is currently ineligible for bail.