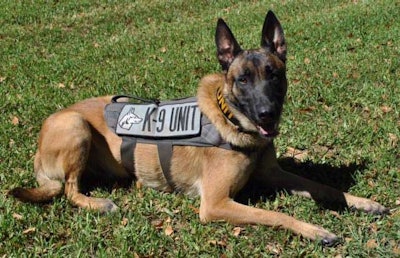 Smith County, TX, law enforcement officers are concentrating their focus on three counties as they search for a man wanted in the fatal shooting of a deputy K-9 constable.
Smith County Sheriff Larry Smith said Wednesday that thanks to tips from the community, officers have been able to focus on Smith, Wood and Van Zandt counties as they search for Michael Koch, who is suspected of fatally shooting Ogar, a Belgian Malinois.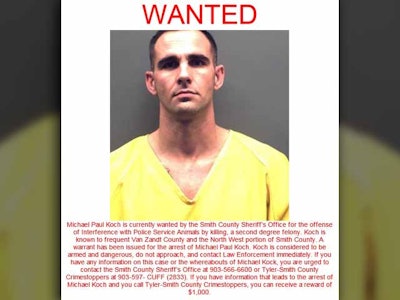 Ogar was shot Tuesday when his handler, Deputy Constable Kevin Petty, attempted a traffic stop, KLTV reports.
Authorities say when the vehicle pulled over, a male, later identified as Michael Paul Koch, 36, fled into the woods. Petty opened the door for the K-9 officer to exit the vehicle, and the dog chased Koch into the woods. A few minutes later, Petty heard shots from the woods. He found the dog dead and there was no sign of the suspect. Backup officers then arrived at the scene and began searching for Koch.