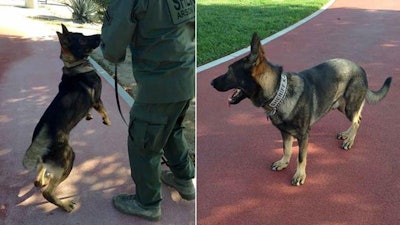 A San Bernardino County sheriff's detective lost his finger during an attempt to save his K9 partner, trained in explosive detection and tracking, who died while searching a warehouse, officials said Friday.
Jojo, a 4-year-old Sable German Shepherd from the Czech Republic, got an object lodged in his throat and choked to death during the exercise on Jan. 6, according to the San Bernardino County Sheriff's Department.
Jojo's handler, Detective Brad Phillips, posted a message on the department's Facebook page on his attempt to rescue his friend and partner of three years, KABC 7 reports.
"I did everything in my power to save him and in the process had my right pinky finger amputated...I am devastated that I failed," he said.
JoJo was assigned to the bomb and arson detail with tracking and explosive detection skills. Phillips said although Jojo accomplished many things throughout his career, including finding buried guns and tracking wanted felons, his most courageous moment was on Dec. 2, when he searched neighboring buildings, parking lots and the very site of the San Bernardino terror attack for 10 consecutive hours while "people were still lying lifelessly."