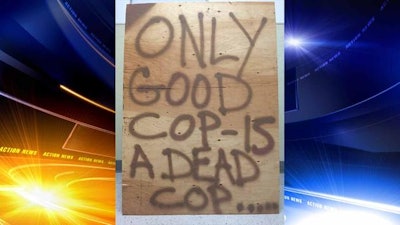 Authorities in Bucks County, PA, have issued a challenge to the person who made an anti-police sign and posted it near a Falls Township business.
A photo of the sign was sent to WPVI TV by the Falls Township Police Department. It reads, "Only good cop is a dead cop."
According to Falls Township Police Lt. Henry Ward, the sign was found at 6 a.m. Monday hanging along Lincoln Highway near Pennsbury Manufacturing.
In a statement Monday night, Ward challenged the person or persons to stop in at the police department and speak to the officers.