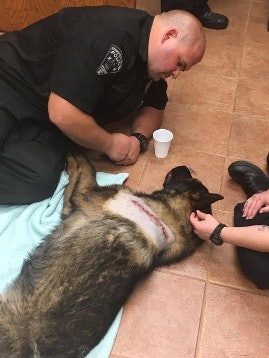 A K-9 with the Springfield Township (OH) Police Department was shot early Friday morning after a police chase.
Initially, officers tried to stop the car because of a suspected OVI. But the car didn't stop, and officers gave chase.
Officers deployed stop sticks to incapacitate the car, which stopped with four flat tires on Winton Road in Springfield Township.
Springfield Twp. Chief Robert Browder said a man jumped out the car with a gun and ran away. Officers deployed Pako, Springfield Township's K-9, who followed the man.
Pako bit the man, who fired a shot into the dog's shoulder, Browder said. Officers then fired on the man, striking him in the back once.
Both the dog and the man are expected to recover, WLWT TV reports.