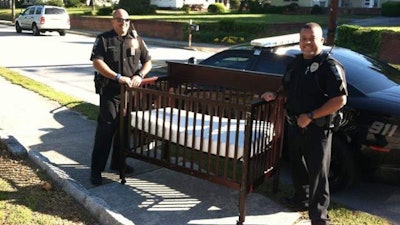 The story of an act of kindness by two Conyers, GA, police officers that helped bring closure to a grieving mother is going viral, reports WYFF.
The mother, Samantha Hudgens Swaney, posted the story last Wednesday on the Conyers Police Department Facebook page.
The department thanked Swaney for sharing how officers impact the community.
Swaney's post says: "On Saturday morning, my husband and I and our friend Toni were setting up for a garage sale. It was about 7:45 a.m., and a city of Conyers policeman pulled up. My first thought was that I needed to find my permit. He smiled and said that he was actually stopping to see if we happened to be selling a baby crib. He shared that he had just responded to a family in need and he saw that their most immediate need was a crib for their tiny 3-month-old. He and his partner were willing to buy one, and just stopped by when they saw us putting out a bunch of furniture for sale.
"It might have seemed random to him, but I fully believe he was being led by the Lord. What he couldn't have known is that we had a brand new, never been used crib in our attic. Several years ago, we lost our baby during labor, and I haven't been able to part with the crib. There was not a second's hesitation. We gave him the crib and mattress. He and my husband went into the attic to bring it down.
"Those two gentlemen did so much more than they knew on Saturday, April 10. They rushed to the aid of someone in our community, saved the life of a little baby and helped her parents. And they gave me a way to let go of one of the biggest things I was holding onto from my son's cut-short life."