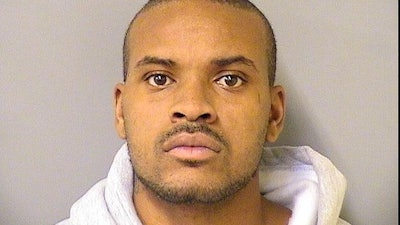 A man on parole who shot two Chicago police officers when they interrupted him during a drug transaction in the West Garfield Park neighborhood in 2011 was sentenced Monday to 100 years in prison, according to prosecutors and court records.
Alvis Holley, 28, was convicted in September of two counts of attempted murder of a police officer. Cook Count Judge Nicholas Ford sentenced him Monday.
About 10:45 p.m. July 18, 2011, the officers saw a narcotics deal in an alley on the 4000 block of West Wilcox Street. When they approached the alley, Holley, who was involved in the transaction, walked up to the passenger side of the police car, prosecutors said.
Holley could not tell the officers what he was doing or where he lived, so he was told to put his hands on the hood of the police car. Instead, he began to fight with the officers, prosecutors said.
During the fight, Holley pulled out a .22-caliber pistol from his waist and shot one of the officers in the left bicep and grazed his left temple. When the first officer fell to the ground, Holley shot the second officer in the head, prosecutors said.
Holley then fled the scene but left a hat behind containing DNA evidence. Holley later confessed to the crime but said he had been attacked by an unknown person from behind and shot to protect himself, prosecutors said.