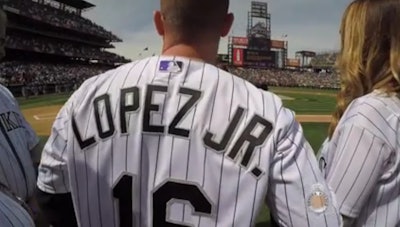 Wounded Denver police Sgt. Tony Lopez Jr., who was shot several times during a December traffic stop, threw out the Rockies' ceremonial first pitch at the team's home opener on Friday, reports the Denver Post.
Lopez was wearing a Rockies jersey with his name on the back and walked onto the field with the help of crutches and a brace on his left leg.
The Coors Field crowd gave Lopez booming applause after he tossed a perfect strike.
Lopez was almost killed during a Dec. 8 shootout with 36-year-old Jason Wood, who was wounded in the foot during a traffic stop near Federal Boulevard and Clyde Place.
Lopez was critically injured in the flurry of gunfire. The seven-year veteran of the city's police department underwent hours of surgery for multiple wounds to the upper and lower parts of his body.
Related:
Video: Denver Brewery Donates Proceeds to Wounded Officer's Family

Critically Wounded Denver Officer Takes First Steps After Shooting
Suspect Identified in Shooting, Critical Wounding of Denver Officer