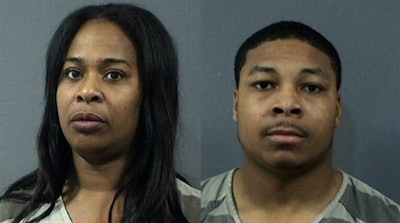 A mother and son are in police custody after they tried hiring a hit man to kill three officers, according to the Michigan State Police.
Lakeisha Goodwin, 43, of Romulus, and her son, Jontele Goodwin, 26, of Monroe County, are charged with solicitation to commit murder and witness intimidation. They were arraigned Tuesday, reports ClickOnDetroit.
An informant told Michigan State Police that Jontele Goodwin asked him to kill three individuals who were believed to be responsible for his arrest on narcotics-related charges by detectives with the Monroe Area Narcotics Team and Investigative Service. The informant told police the solicitation happened while they were both incarcerated in the Monroe County Jail.
Police said a recorded conversation between Jontele Goodwin and the informant reveals the individuals that were to be killed and how he wanted them murdered. According to MSP, Jontele Goodwin offered to give the informant $2,500 to murder the three individuals.
Michigan State Police said there are multiple recorded phone calls between Lakeisha Goodwin and the informant revealing that she encouraged the murders and provided advice on how to carry them out.
The mother delivered narcotics to the informant as a down payment for the murders and offered to give him a ride to the airport after the hit, according to MSP.