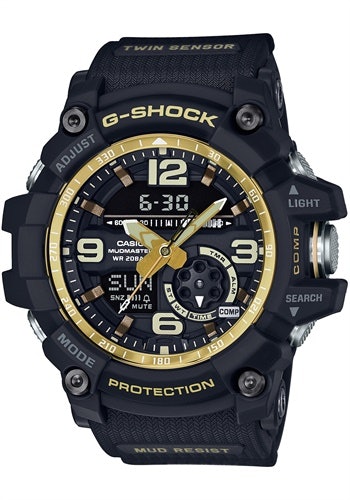 Casio G-Shock's newest models for its Master of G Series feature a vintage-inspired black and gold color scheme. The new Gulfmaster model (GN1000GB-1A) and Mudmaster model (GG1000GB-1A) are a part of the MUDMASTER line of watches within the Master of G Series.
With inspiration from tools and machinery, the gold accents on both the GN1000GB-1A and GG1000GB-1A are designed to have a weathered look, as if they've endured years of service. The bezel on the GULFMASTER GN1000GB-1A recalls a ship's porthole that's been exposed to wind and rain, while the gold detail on the MUDMASTER GG1000GB-1A takes on the appearance of tools that have been polished by digging in the ground.
Both models feature Twin Sensor technology. The sensors are used to control compass bearing and also to measure temperatures. The new watches are also equipped with a bearing memory that indicates the bearing from a starting point to a destination, enabling wearers to quickly check if they are on course. The thermometer sensor measures temperatures as low as -10°C (14°F) and as high as 60°C (140°F). The measuring unit is 0.1 C or 0.2°F.
In addition to Shock Resistance, 200-meter Water Resistance, World Time with 31 time zones that include 48 cities + UTC, 1/100th second Stopwatch with split time, elapsed time, measuring modes as well as first and second place timing, Countdown Timer, 5 Daily Alarms, Full Auto Calendar, and Auto LED light (Super Illuminator), the Gulfmaster model also features a Moon Graph and Tide Indicator.
The Casio G-Shock Master of G Vintage Gold GN1000GB-1A has a case size of 53.4mm and will retail for $300, and the GG1000GB-1A has a case size of 55.3mm and will retail for $320. Both models will be available August 2016 at Macy's, select fashion boutiques, the G-Shock NYC Soho store and www.gshock.com.