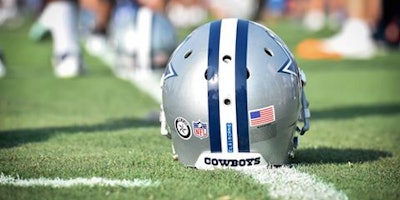 The NFL has ruled it won't allow the Dallas Cowboys to have helmet stickers honoring slain Dallas law enforcement officers when the team takes the field in the preseason and regular-season this year.
The team debuted the "Arm in Arm" helmet decals at the start of training camp in Oxnard, Calif., as a tribute to the five officers killed in a downtown Dallas shooting in July.
Tight end Jason Witten first helped initiate the idea of a unity ceremony to open camp that involved players, Dallas Police Chief David Brown, Mayor Mike Rawlings and family members of the slain officers walking arm in arm onto the field in Oxnard.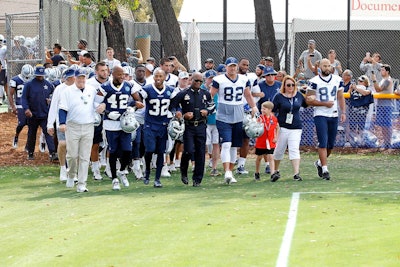 Witten also wanted the Cowboys to wear the "Arm in Arm" stickers on their helmets this season, beginning with Saturday's exhibition game against the Rams.
The NFL's uniform policy is very strict, the Sporting News reports.
The policy, right out of Rule 5, Section 4 of the NFL rule book:
"Players generally must present an appearance that is appropriate to representing their individual clubs and the National Football League. The term uniform, as used in this policy, applies to every piece of equipment worn by a player, including helmet, shoulder pads, thigh pads, knee pads, and any other item of protective gear, and to every visible item of apparel, including but not limited to pants, jerseys, wristbands, gloves, stockings, shoes, visible undergarments, and accessories such as headwear worn under helmets and hand towels.
"Throughout the period on game-day that a player is visible to the stadium and television audience (including in pregame warm-ups, in the bench area, and during postgame interviews in the locker room or on the field), players are prohibited from wearing, displaying, or otherwise conveying personal messages either in writing or illustration, unless such message has been approved in advance by the League office. Items to celebrate anniversaries or memorable events, or to honor or commemorate individuals, such as helmet decals, and arm bands and jersey patches on players' uniforms, are prohibited unless approved in advance by the League office. All such items approved by the League office, if any, must relate to team or League events or personages. The League will not grant permission for any club or player to wear, display, or otherwise convey messages, through helmet decals, arm bands, jersey patches, or other items affixed to game uniforms or equipment, which relate to political activities or causes, other non-football events, causes or campaigns, or charitable causes or campaigns."