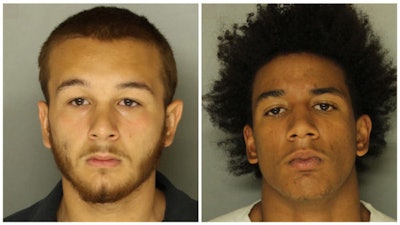 A 17-year-old has been charged with attempting to shoot and kill four police officers in Columbia in Lancaster County, PA, early Friday morning.
After he was found and taken into custody, Marquell Rentas, 17, of Columbia, told police, "I was shooting at you; F-you, police," Lancaster County District Attorney Craig Stedman said during a news conference Saturday morning.
Stedman said the incident was "senseless" and "the facts are chilling," reports the Patriot-News.
A second man, Trenton Nace, 18, of Columbia, has been charged with helping Rentas carry out the shootings. Stedman said Nace was handing bullets to Rentas and picking up the spent shell casings.
Officers were called to the area just before 3:30 a.m. after receiving a call about shots fired. More than a half-dozen shots were fired at officers responding to the scene. The shooting stopped at about 4:10 a.m. No injuries were reported.
"What's clear is, as the police officers arrived, they are the intended targets," Stedman said.
Both Rentas and Nace have been charged with four counts of attempted homicide of a law enforcement officer, aggravated assault, assault of a law-enforcement officer, conspiracy, and reckless endangerment.