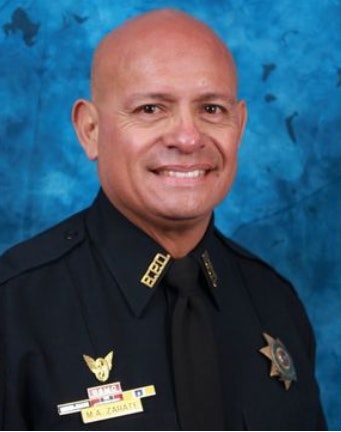 A Bellaire, TX, police officer on a motorcycle was killed in a crash during a chase Tuesday in southwest Houston, reports click2houston.
According to Houston police, Officer Anthony Marco Zarate was responding to a shoplifting incident at the Target in nearby Meyerland Plaza around 1:40 p.m. and a chase began.
"Loss prevention flagged down the Bellaire PD officer who just completed another traffic stop, told him that there was a vehicle that was leaving that had at least two males that were believed to be involved in a shoplifting incident inside the store," Victor Senties with the Houston Police Department said.
He said Zarate pulled the vehicle over in the parking lot near Talbot's in Meyerland Plaza and when he turned his head to communicate to dispatch, the vehicle took off.
Senties said Zarate was pursuing the vehicle at a high rate of speed north through a residential area in the 8500 block of Ferris near Beechnut when the motorcycle slammed into the back of a landscaping trailer parked on Ferris, police said.
Zarate was rushed to Memorial Hermann Hospital, but he died of his injuries.
Zarate was with Bellaire PD for seven years, and was a Marine Corps veteran. Zarate, 52, leaves behind a wife and three daughters.