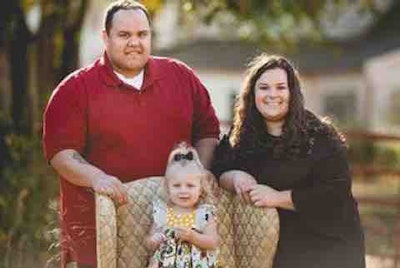 Newton County, GA, Sheriff's Deputy Justin White, critically injured in an accident on Oct. 30 while responding to an emergency, died at 8:54 a.m. Tuesday at Atlanta Medical Center, according to Sheriff's Capt. Sammy Banks.
Deputy White was responding to a medical emergency call at the time of the accident. According to a news release from the Georgia State Patrol, they were called to assist about 2:30 a.m. that Sunday, reports the Rockdale Citizen.
"The marked Newton County Sheriff Department patrol vehicle, with emergency equipment activated, was traveling south on Georgia Highway 162 negotiating a curve," the release stated. "The right side tires left the roadway and entered the west shoulder before reentering the southbound lane of Georgia Highway 162. The driver lost control and eventually struck an embankment and overturned coming to an uncontrolled rest on its roof on the south shoulder of Mote Road, facing east. Deputy was extricated from his vehicle and transported to Atlanta Medical Center. There was no air bag deployment and the driver was not wearing his safety belt."
White has been with the Newton County Sheriff's Office since 2012, initially working in the detention center. In March 2015 he transferred to the patrol division.
He is survived by his girlfriend and their 2-year-old daughter.
White's family had started a GoFundMe campaign to help with expenses. Donations can be made at https://www.gofundme.com/2wsscic.