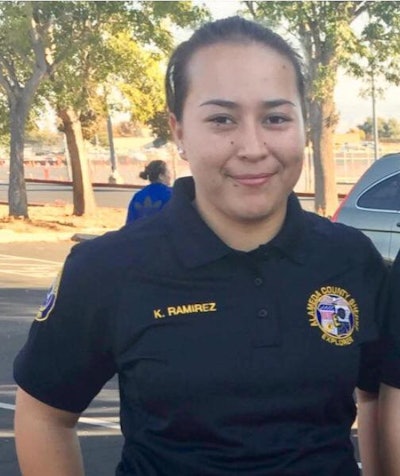 Authorities in Northern California confirmed Friday that a body found in a creek at an East Oakland park was that of a missing Alameda County (CA) Sheriff's Department volunteer and that two homicide suspects were in custody, reports KPIX.
21-year-old Karla Ramirez-Segoviano was last seen dropping off a friend in San Leandro at 10 p.m. Wednesday. Ramirez-Segoviano was a volunteer mentor in the department's Explorer program. She had been a police explorer for four years and was planning to become a police officer.
Friday afternoon, authorities confirmed that homicide investigators, patrol officers, and crime reduction teams followed up leads which ultimately led to the two individuals — a male and a female, both Oakland residents — being taken into custody in connection with Ramirez-Segoviano's homicide.
Police sources told KPIX the suspects lured the victim to Arroyo Viejo Park, where they beat her, stabbed her multiple times, and set her body on fire. The source also said that the woman thought Ramirez-Segoviano was having an affair with her boyfriend.
During a press conference, officials stated that Ramirez-Segoviano's work with the Alameda County Sheriff's office was not a catalyst in the homicide.