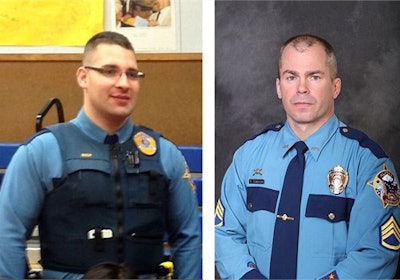 Nathanial Kangas will spend the rest of his life in prison for murdering two Alaska State Troopers in Tanana.
Fairbanks Superior Court Judge Paul Lyle sentenced Kangas to 203 years in prison Wednesday for killing trooper Sgt. Scott Johnson and trooper Gabe Rich in Tanana on May 1, 2014.
The life sentence had been assured since May 18, when a Fairbanks jury convicted Kangas of first-degree murder for ambushing the troopers with a semiautomatic weapon, pulling the trigger seven times.
Kangas murdered the two troopers as they attempted to arrest his father, Arvin Kangas, on a misdemeanor assault charge. Arvin Kangas was convicted of evidence tampering in a separate case and will be eligible for release in a few years.