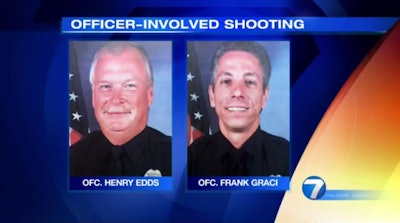 A Brookville, OH, officer was wounded in the arm Monday night during a shooting at a gas station that resulted in the death of a woman believed to be a suspect. A male suspect was taken into custody Tuesday morning, reports WHIO.
Officer Henry Edds remains in stable condition and is recovering after undergoing surgery. Officer Frank Graci also discharged his weapon but was not injured, police said.
Police have arrested 27-year-old suspect Conrad Davis in connection with the shooting. He was hiding in a camper when he was found. Ashley Sides, 31, died from gunshot wounds. It is not clear if Sides or Davis opened fire on the officers and shot Edds, or who killed the woman. It was also unclear what led up to the shooting.