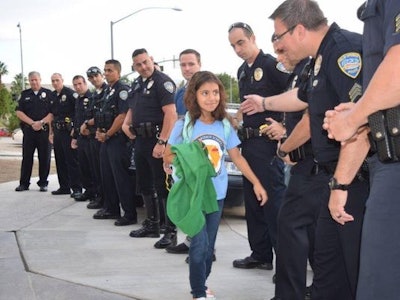 More than a dozen Palm Springs, CA, police officers escorted Vanessa Vega to school Monday morning, her first day back since her father Jose "Gil" Vega was killed in the line of duty two weeks ago.
Palm Springs Police Sgt. William Hutchinson said officers wanted Vanessa to know they will always support her.
"It is a very tragic time for her. We can't walk away. She has a whole new family to rely on," Hutchinson said. The officers picked Vanessa up at home and drove her to Rio Vista Elementary where she is in fourth grade. Hutchinson said many more officers wanted to be there for Vanessa, but the department had to limit how many showed up this morning to avoid causing a traffic jam due to a long line of police vehicles.
Vanessa, 8, is the youngest of Vega's eight children. At a memorial service honoring Vega and Lesley Zerebny, the other officer killed on Oct. 8, Vanessa told the crowd that she learned everything from her father, USA Today reports.
Hutchinson said Vanessa was shocked and surprised when officers knocked on her door Monday morning. She greeted them all with a hug.
"If we can put a little bit of happiness or joy or comfort in her life, we will help her," Hutchinson said. "It's really important for the family that we show our support."