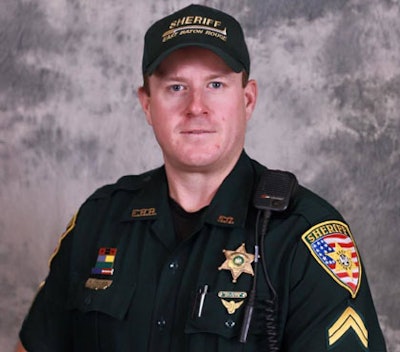 Since July 17, the family of East Baton Rouge (LA) Sheriff's Deputy Nick Tullier, 41, has stood vigil by their son, waiting for him to emerge from a coma. It's been more than 90 days since Tullier answered the call to take down an active shooter targeting officers.
"We feel he is listening to us," James Tullier, Nick Tullier's father, told CNN. "He'll open his right eye at times," Tullier says. "Sometimes it looks like he is looking at you, sometimes it looks like he is looking into space."
James and Mary Tullier are always looking for a slight movement, anything that might suggest their son will soon wake from this coma. The first breakthrough happened in August, when Tullier's family realized he was wiggling his toes.
When he was shot, a bullet lodged in the back of Tullier's head and, according to his family, has caused severe brain stem damage. Tullier was then shot twice in the abdomen and has undergone more than 12 surgeries to repair the internal damage to his organs.
Barring any medical setbacks, Tullier could soon be moved to The Institute for Rehabilitation and Research at Memorial Hermann Hospital in Houston. Even though he is still in a coma, family and friends are optimistic Tullier will continue to beat the odds and recover whenever they are able to move him to Houston.
"They have really high hopes for Nick," says Tullier's fiancée Danielle McNicoll. "They see in his charts and his progress that God willing he can make a hundred-percent recovery."
James Tullier says the outpouring of support from law enforcement officers and people around the world help keep the family's spirits high. But what he often thinks about and hopes for is that his son's struggle and fight to survive will help bring an end to anti-police violence across the country.