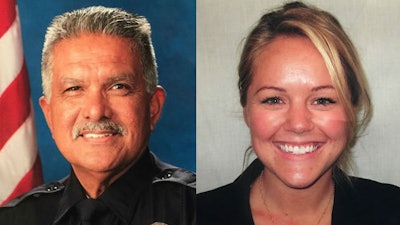 In a lavish ceremony peppered with tears, laughter, music, and memories, two slain Palm Springs, CA, police officers were honored by thousands as dedicated public servants — one near the end of his career and the other just beginning hers — and as loving parents and friends.
But amid the emotion of the memorial service for Officers Jose Gilbert Vega, 63, and Lesley Zerebny, 27, came a call for end to violence against law enforcement officers across the nation, reports My News LA.
"Enough is enough," Palm Springs police Chief Bryan Reyes told the crowd gathered Tuesday at the Palm Springs Convention Center, including police from around the country.
"Our law enforcement brothers and sisters throughout the country are growing tired of this unacceptable behavior," he said, drawing loud applause from the audience.
"The threat to law enforcement throughout our country is very real," Reyes said, fighting back tears. "No community is exempt from such a tragedy."
On Oct. 8, Vega and Zerebny were shot and killed after responding to a family disturbance call. The alleged shooter, John Hernandez Felix, has been arrested and charged with capital murder — but his name was not uttered during the memorial service.
"… I refuse to identify him by name and he does not meet the definition of a man in my book," Reyes said.