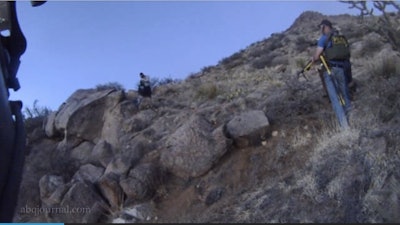 The case against two former New Mexico police officers charged in the death of a homeless man ended in a mistrial Tuesday when jurors told the judge they were hopelessly deadlocked on the counts of second-degree murder.
Judge Alisa Hadfield declared the mistrial after more than two days of deliberations in the case against Keith Sandy and Dominique Perez. Nine jurors wanted to acquit the men, and three were holding out for a guilty verdict.
Hadfield asked the jurors one by one if further deliberations would be fruitful, and they responded: "No, your honor."
Special Prosecutor Randi McGinn said it would be up to the district attorney in Albuquerque to decide whether to retry the case. Defense lawyer Sam Bregman said he hopes prosecutors consider the 9-3 split in favor of acquittal and decide to not pursue another trial.
Sandy and Perez shot mentally ill homeless camper James Boyd in 2014 after receiving complaints he was acting erratically on a rocky hillside.
The defendants said they opened fire because Boyd had two pocket knives and they believed he posed a deadly threat to a K-9 handler who had lost control of his police service dog and chased the animal, bringing him within 9 to 12 feet of Boyd.
If convicted, Sandy, 41, and Perez, 35, could have faced up to 15 years in prison for second-degree murder.