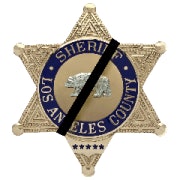 A Los Angeles County sheriff's sergeant who was in critical condition after being shot in the face today has died. A suspect was taken into custody after a search for the shooter in Lancaster near Antelope Valley College, which issued a shelter-in- place order Wednesday afternoon, reports KTLA.
The sergeant killed was Steve Owen, according to Executive Officer Neal Tyler of the Sheriff's Department, reports the Los Angeles Times.
Owen, a 29-year department veteran, was awarded a Medal of Valor in 2014, the department's highest honor. His wife is a member of the department's Arson Explosive Unit.
The shooting occurred at 12:35 p.m. in the 3200 block of West Avenue J-7, according to Deputy Mike Barraza with the Los Angeles County Sheriff's Department's Lancaster Station, reports KTLA.
The area is a couple blocks north of the Antelope Valley College campus, and a SWAT team and dozens of deputies could be seen responding to a residential area there.
Preliminary information indicated a deputy was struck by gunfire and taken to a hospital in unknown condition, Barraza said. He later said a sergeant and a deputy were both shot. That information was later corrected, with sheriff's spokeswoman Nicole Nishida saying only a sergeant was shot.
Nishida confirmed about 2:15 p.m. that one person was in custody and no suspects were outstanding.
The Sheriff's Department said in a news release that the sergeant was in critical condition. Sheriff's homicide detectives were responding.
The sergeant was shot in the face, Lancaster's mayor told the Los Angeles Times, which reported the sergeant and a deputy were responding to a burglary call.
It is now known that a gunbattle ensued after police responded to a residential burglary call in which the subject had reportedly taken two hostages, according to the Los Angeles Times.