VIDEO: NM Cop Killer Gets Sentenced to Life in Prison
The judge had some harsh words for the man convicted of murdering Rio Rancho (NM) Officer Gregg Benner, telling Andrew Romero that he will "die in prison."
Friday, in a packed courtroom that included the officer's friends and family, the judge sentenced Romero to life without parole.
After the judge handed down the sentence, he called Officer Benner's widow, Julie, up to the bench and handed her the badge and pin Officer Benner wore up until the day he was murdered.
Benner was shot and killed at a traffic stop in May 2015.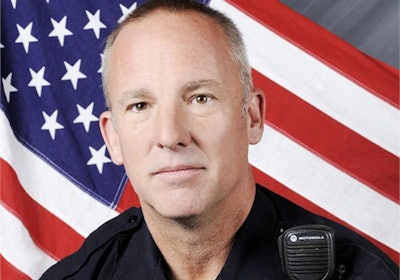 Tabitha Littles was also sentenced Friday. Littles is Romero's ex-girlfriend who was with him the night he shot Officer Benner.
She was charged with Officer Benner's murder after prosecutors argued she didn't do anything to warn Officer Benner that Romero was armed and planned to shoot him. But that murder charge was dropped when she agreed to testify against Romero.
The judge sentenced her to 16 years, the minimum allowed under the plea deal. She could be out in as little as eight with good time, KRQE TV reports.