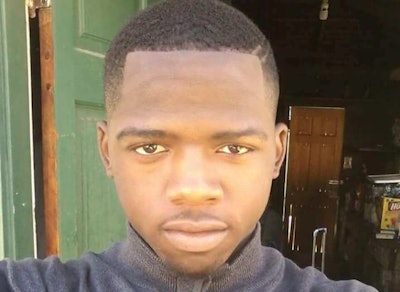 A man fatally shot by Los Angeles police during a weekend foot pursuit was holding a loaded semiautomatic gun in one hand and turned toward officers, Police Chief Charlie Beck said Monday.
The chief disclosed details of Saturday's shooting of Carnell Snell, Jr., 18, in South Los Angeles.
Snell was in the back seat of a car that officers noticed because its paper plates did not match the year of the car, Beck said.
Snell ducked from sight and then jumped out of the car while holding his waistband as if supporting something, the chief said.
After a chase of several hundred yards, Snell pulled a handgun with his left hand and turned toward the officers, who fired six rounds. Beck said Snell was hit twice, once in the torso and once in a knee. He died at the scene.
Snell's gun was fully loaded with one round in the chamber but was not fired, Beck said. It was found about five feet from his body, reports CBS LA.
The officers were not wearing body cameras but a surveillance video from a business clearly showed Snell was armed, Beck said.
During the weekend, the shooting led to small but rowdy protests in South Los Angeles, resulting in several arrests.