VIDEO: Driver Faces Attempted Murder Charges for Hitting 3 Phoenix Officers
A man was arrested and faces three counts of attempted first-degree murder after trying to run over three Phoenix police officers early Tuesday morning, reports KPNX.
"Our Phoenix police officers were targeted," Phoenix police chief Joe Yahner said in a news conference.
The officers were taken to the hospital. One suffered minor injuries sustained in the fight with the suspect, the other a head injury, and the sergeant suffered a broken leg.
The driver was later identified as 44-year-old Marc LaQuon Payne. According to Yahner, Payne also faces two counts of aggravated assault because of how close he came to hitting two clerks inside the QT with his car. Police suspect impairment may be a factor in the crash.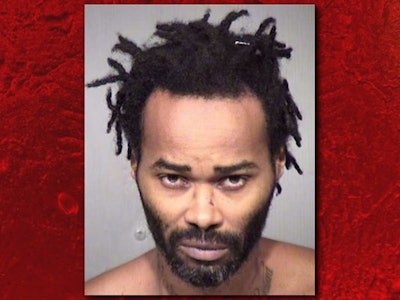 Court documents show in 1997, Payne pleaded guilty to aggravated assault after resisting arrest and kicking a Phoenix police officer twice in the leg. After successfully completing probation, the charge was downgraded to a misdemeanor.
Related: