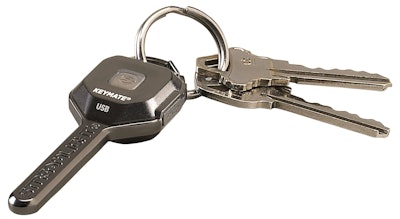 Streamlight Inc., a leading provider of high-performance lighting, has introduced the KeyMate USB, an ultra-compact, hands-free area light that is shaped like a key so that it can be easily attached to a key ring or zipper pull. The USB rechargeable light runs for up to two hours, allowing for extended use at low operating costs.
"Whether you need it to light up a dark basement, when you go for a nighttime jog or to provide emergency lighting during a power outage, the KeyMate USB offers you peace of mind by providing light when and where you need it," said Streamlight Vice President, Sales and Marketing, Michael F. Dineen. "The light's key shape and spring-loaded clip allow for easy attachment to your key ring or person for hands-free use, so it's always available. And its long run time combined with its USB rechargeability lets you turn it on and leave it on for up to two hours."
With an off/off button for constant operation, the KeyMate USB has three modes: High (35 lumens); Low (16); and Strobe (flashes at High lumen level). Featuring LED technology for extreme brightness, the light provides a run time of one hour on High and two hours in both the Low and Strobe modes.
The new light uses a 110 mAh Lithium Polymer cell, with Red and Green LED lights to indicate charging status. Charge time is approximately two to three hours, depending on the USB charge source. The red LED flashes to let you know when the battery is getting low.
The KeyMate USB is designed with a metal body and durable, reinforced construction. The compact light measures only 2.9 inches wide, 1.08 inches thick, and weighs a mere .5 ounces. It is IPX4 rated for weather resistance, and is impact resistant-tested to one meter.
The KeyMate USB has an MSRP of $28.
For more information, visit www.streamlight.com.