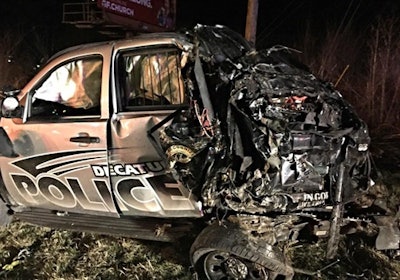 A police officer in Decatur, TX, is lucky to be alive after an 18-wheeler reportedly slammed into his parked patrol SUV, reports KDFW.
The Decatur Police Department said Officer Matthew Roberts was on the shoulder of Highway 287 around 11:30 p.m. Thursday. He was preparing to conduct traffic stops when an 18-wheeler went off the road and hit him.
Photos of the accident show Officer Roberts' mangled patrol SUV standing upside down against a utility pole. He was air lifted to a local hospital, but is already home recovering from his injuries.
The truck driver was charged with DWI.