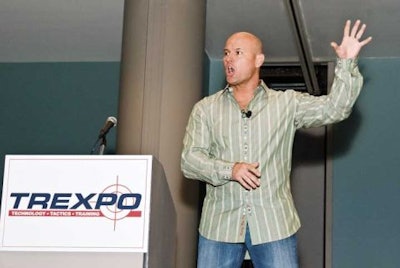 Former US Navy SEAL Richard "Mack" Machowicz, best known for starring in the hit show "Future Weapons" on Discovery Channel, died on Monday after a long battle with brain cancer. He was 51.
Machowicz was diagnosed with Stage 4 brain cancer some time in late 2015, according to the Facebook page for his company, NDCQ, or "Not Dead, Can't Quit."
"I refuse to give up on myself and what I'm capable of doing," he said in February 2016.
In addition to his work on television, Machowicz was a teacher and trainer who often worked with law enforcement. Machowicz was also the author of "Unleash the Warrior Within," a best-selling book about conquering fears and achieving goals. "Rarely if ever will you be attacked. Most people will never see combat in the literal sense, but the principles that make us effective in battle are relevant to the daily challenges that we face," Machowicz said in a 2009 POLICE Magazine interview promoting his appearance at TREXPO, a trade show for tactical officers then owned by POLICE Magazine.
Known as a warrior and a martial artist, Machowicz was also a student of Zen Buddhism. In 2009 he told POLICE Magazine editor David Griffith, "If I exist solely to help somebody else do something great, I am OK with that. That would be a blessing to me."
"Mack was a fascinating man and one of the most thought-provoking people I have ever had the opportunity to interview. It wasn't hard to see why so many people in law enforcement and the military loved him," Griffith said. "It's very sad to lose such a man in the prime of his life."
Machowicz is survived by his wife and two young daughters.