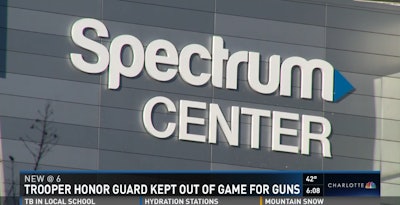 Last week security working the Charlotte Hornets vs. Miami Heat NBA game at Charlotte's Spectrum Center barred an North Carolina Highway Patrol honor guard from entering the arena because the troopers were armed.
Sgt. Henry Dorty tells NBC Charlotte he and other members of the Honor Guard were in full uniform when they arrived at Spectrum Center Thursday night ahead of the game.
Dorty says the Honor Guard has presented colors and led the Pledge of Allegiance at the arena many times before. However, this time, he says they were told to check their weapons at the door if they wanted to come inside.
Dorty says they refused, but the arena's new head of security didn't budge. The stalemate ended with the troopers leaving.