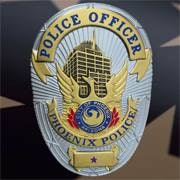 Phoenix Police leaders have announced the department plans to reassign detectives and sergeants to street patrols in an effort to manage a continuing shortage of officers.
The affected positions will be taken from dozens of units across the department, in some cases eliminating units entirely.
Hardest hit was the agency's Fugitive Apprehension Investigative Detail (FAID), which will lose all 20 of its specialty officers to the streets. The shake-up also will dissolve targeted crime and drug units in Maryvale and liquor enforcement and nighttime coverage squads downtown.
An estimated 170 positions will be moved, although police said that number was still slightly in flux. Phoenix police spokesman Sgt. Jonathan Howard said the transfers would be based on seniority within the units and were scheduled to begin Feb. 20.
Despite hiring efforts over the past two years, the department is still feeling the effects of a six-year hiring freeze. There are 400 fewer officers than the department's authorized sworn staffing level, AZ Central reports.